Border
Voyeur.......
Last night, I was looking thru by camera diary and found this entry so I looked up the images and thought as spring is just around the corner, I would share them. They were taken in August last year, so hopefully come May, June this year, she should have dropped one or two kids.

Oh..I bet the thread title gets NZPOME in here.


09.08.09
As it had rain heavily for most of the night, harvesting was out of the question, so I decide to have a mooch about.

The morning was quiet misty and damp, but I took my camera along anyway. I drove out to one of our woods parked up and set off though the mist, I had walked for about half a mile when a roe came racing across the track, no chance of a pic, as I was about to continue walking I heard a roar, well more of a bark really, a sound that I had heard many times before, I moved to the side of the track and listened, I heard the sound again, sure enough he came into sight at a trot, he was not in a hurry which suprised me, as this time of year they are normally at full speed.

I leaned up against a tree for the next couple of minutes then walking slowly forward, donning my camo full face mask, I had already a camo jacket on, to where I thought the deer had crossed, I stopped and looked about a bit, no deer in sight so I walked away from the track into the wood, taking it very slow as to not step on any fallen branches and make a noise.

After 30-40 yards from the track I saw what I was looking for two roe deer, it was still misty, the light was not good for taking photos plus the fact that, they were at the limit of my lens, I was using a 75-300 lens (note to self must buy a bigger lens) and there was various trees in the way as well. Added.... so please forgive me that some of the pics are abit blurred.

I got down on my knees and started to crawl but this is not easy to do on ground littered with branches and twigs, when you are trying you make as little noise as possible, so I decided this was the closest I was going to get. The results are below, not shots you can capture every day so I was quiet pleased I had taken a walk instead of sawing logs for the woodburner.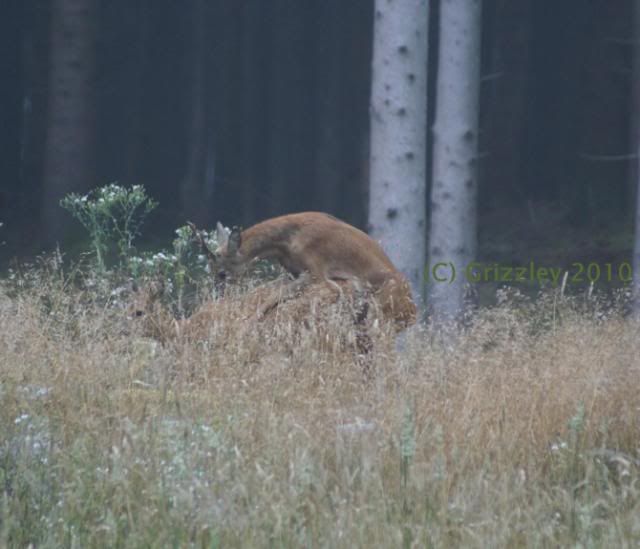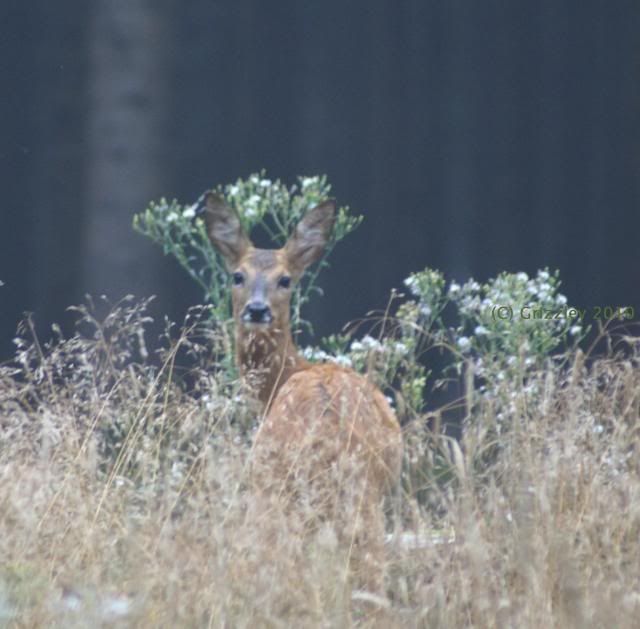 This guy was one cool customer, he knew I was there but he had other things on his mind. Three times he mounted her before he decided he had, had enough and casually walked away.