Border
plum in Maderia for Darkbrowneggs.
Sue,

Its quite easy really.

1kg plums
1dl water
500g Sugar
2dl Maderia
1tsp vanilia powder

Depending on how many kg plums I have I just x everything up.

Destone the plums.

Boil water and sugar to a syrup, add Maderia and vanilia.

Make sure your storage buckets, jars are spotlessly clean.

Put raw plums in a suitable container ( I use a 5l plastic bucket with lid) and pour the syrup over the plums.

Stir daily for 3-4 days, then pour over in some suitable storage jars.

Store in dark place.

Job done.

I normally wait 3-4 weeks before eating, but you can eat straight away if needs be.

Be sure to drain the plums well, if you are going to use them with vension. They are fantastic with ice cream.


As for the best time to buy venison I shoot my own so don't have a problem, but if I were you, I would stay away from Red deer stags in the rutting season October until early November as the meat can be quite strong, I personally won't eat it. If I happen to shoot a stag in this time then he goes to make salami a few herbs and spices soon cover that strong taste.

Other than that time you should be ok.

Plum in Maderia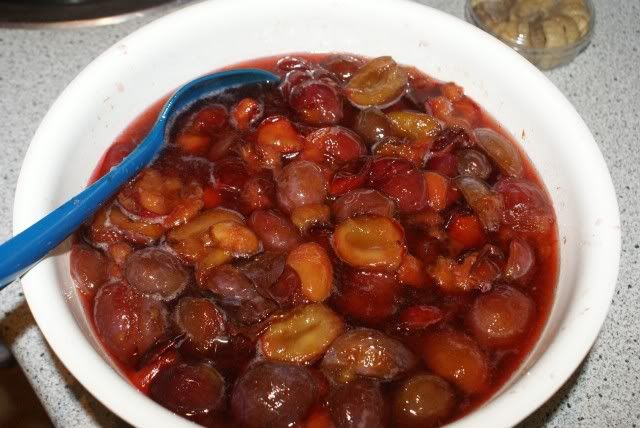 I also do strawberries in cognac or rum